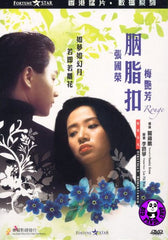 Region Coding: Region Free
Starring:
Leslie Cheung
Anita Mui
Alex Man
Emily Chu
Irene Wan
Lau Ka Wing
Kara Hui
Patrick Tse
Wong Yue
Tam Sin Hung

Director:
Stanley Kwan

Audio Tracks:
DTS 5.1, Dolby Digital 5.1

Languages:
Cantonese, Mandarin

Subtitles:
English, Traditional Chinese

Running Time:
97 minutes
Distributor:
Fortune Star (HK)

Release Date:
19 June 2009

Synopsis:
One night, a beautiful ghost comes to Yuan's newspaper to place an advertisement. She is looking for some one and starts to follow Yuan around pleading.
Fleur was the most popular courteson of Hong Kong. Among her many rich and young admirers, she chose Chan. Chan was dishonoured by his parents and the lovers was face to face with a sad, miserable future.
Fleur opted for suicide. She and Chan took raw opium with a vow that they would be united in the other world. But Fleur waited in vain. So She decides to come back....
More items to consider...