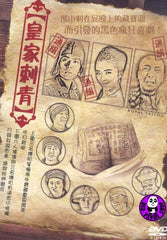 Region Coding: Region Free

Starring:
Huang Xiao Lei
Liu Hua
Wang Jing Song
Zhang Tong
Dai Jun
Wang Wen Bo
Guo Yang
Yu Fei
Da Zhang Wei

Director:
Feng Chao


Audio Tracks:
Dolby Digital

Languages:
Mandarin

Subtitles:
English, Traditional Chinese


Running Time:
98 minutes

Distributor:
Kam & Ronson Enterprises Co., Ltd.

Release Date:
03 Dec 2010

Synopsis:

In 1898, Yuan was the informant that led the Hundred Days' Reform to failure. Empress Dowager Cixi Imprisoned Guangxu Emperor. Lu Er was a Mason and ran into Emperor. He put Emperor's plot to stab in his back and sneaked into prison to rescue the Scholoar. At the same time, the killer broke in the prison and wanted to assassinate the Scholar, but mistakenly helped Lu Er. Lu Er and the Scholar had successfully escaped. In fact, Lu Er's tattoo's was kept in a great treasure secret, which led to other people, including Xu and Inn's boss, targeting to him....
More items to consider...