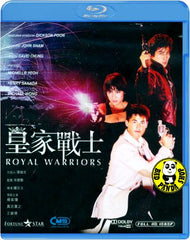 Region Coding: Region A (Locked)

Starring:
Michelle Yeoh
Michael Wong
Sanada Hiroyuki

Director:
Chung Chi Man

Producer:
John Sham

Audio Tracks: 
Dolby TrueHD 7.1, Dolby Digitial EX 6.1, THX Surround EX

Languages: 
Cantonese, Mandarin

Subtitles: 
English, Traditional Chinese

Running Time: 
96 minutes

Distributor:
CMS Media Limited (HK)

Release Date:
01 April 2011

Synopsis:
Bond girl Michelle Yeoh kicks royal butt in this Yes, Madam! follow-up that completely erases any doubt that she is the action babe of the movies. Yeoh plays Michelle, a Hong Kong policewoman who manages to thwart a hijacking attempt with the help of a Japanese Interpol agent (Henry Sanada) and security guard Michael (Michael Wong). Two of the hijackers are killed and their remaining friend vows revenge, hunting down the wife and daughter of the Japanese Interpol agent before turning his weapon on to Michael, Sanada and Michelle. The two law enforcers join forces in a race to track down the ruthless mercenary before he has a chance to pick them off one by one. Royal Warriors is a fast-paced, hard-hitting actioner in the tradition of the best Hong Kong action movies. The stylish martial arts scenes and impressive stunts – all stunningly executed by Yeoh and Sanada – makes Royal Warriors a collectors' item for movie lovers.
More items to consider...