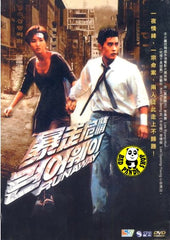 Region Coding:
Region Free
Starring: 
Lee Byung-Hun
Kim Eun-Jeong
Lee Gyeong-Young

Director: 

Kim Seong-Su

Audio Tracks: 
Dolby Digital

Languages: 
Korean

Subtitles: 
English, Traditional Chinese, Simplified Chinese

Running Time: 
105 minutes

Distributor:
Sky Entertainment Distribution Ltd. (HK)

Release Date:
17 May 2007

Synopsis:
Lee Song-Hao, a video game producer, and Choi Mei-Lan, a freelance illustrator, both love their careers and want to reach the top of their own fields. They happen to meet on the highway one night and have one night stand. As they are about to head back to their daily routines, they witness a murder by chance. From then on, they are stalked and assaulted by the criminals which affect their lives enormously. Wherever they go, they are not able to avoid the criminal organization. Thus, a wild chase between cats and mice begins....
More items to consider...