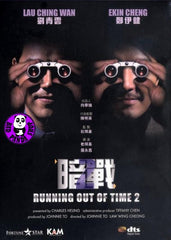 Region Coding: Region 3 (Locked)

Starring:
Lau Ching Wan
Ekin Cheng
Kelly Lin
Hui Siu Hung
Lam Suet

Director:
Johnnie To

Audio Tracks: 
DTS-ES 6.1
Dolby Digital 6.1 EX

Languages: 
Cantonese, Mandarin

Subtitles:
English, Traditional Chinese

Running Time: 
96 minutes

Distributor:
Kam & Ronson Enterprises Co., Ltd. (HK)

Release Date:
9 Jun 2011

Synopsis:
The mysterious figure Ken (Ekin Cheng) confronts Sang (Lau Ching Wan) in a hostage situation and challenges him into a game of ransom. Sang is intrigued. Further investigation by Sang reveals that the crimes are all targeted at a multi-national insurance company. The company's senior executive Teresa (Kelly Lin) receives a phone call from Ken ordering her to deliver a 10 million dollar ransom or more crimes will be committed. When everything seems running out of the track, they are still competing for wisdom and strength...
More items to consider...