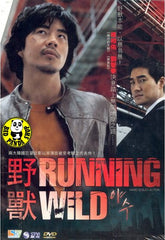 Region Coding:
Region Free

Starring: 
Yoo Ji Tae
Kwon Sang Woo
Kang Sung Jin

Director: 
Kim Sung Soo

Audio Tracks: 
Dolby Digital 5.1, Hi-Fi Stereo

Languages: 
Korean

Subtitles: 
English, Traditional Chinese, Simplified Chinese

Running Time: 
143 minutes

Distributor:
Sky Entertainment Distribution Ltd. (HK)

Release Date:
26 July 2007

Synopsis:
JANG Do-young is a hot-blooded homicide detective who has lost faith in the law. OH Jin-woo is an elite prosecutor who stands in opposition to JANG in that there's nothing but the law in which he can believe. However, learning that they're running after the same target, the two men decide to team up. As they get deeper into the investigation, a huge conspiracy awaits them, in which YOO Kang-jin, boss of the Kuryong Family, is involved. Feeling threatened, YOO blackmails JANG's family and pulls strings to get OH off the case. Now an unavoidable battle begins between two men and the kingpin of the criminal world.
More items to consider...