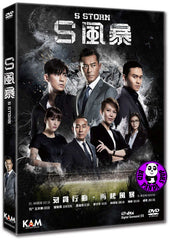 Region Coding: Region 3 (Locked)

Starring:
Louis Koo 古天樂
Julian Cheung 張智霖
Vic Chou 周渝民
Ada Choi 蔡少芬
Dada Chan 陳靜
Janelle Sing 盛君
Bowie Lam 林保怡
Shek Sau 石修

Director:
David Lam 林德祿

Audio Tracks: 
Dolby Digital EX 6.1, DTS-ES 6.1, Dolby Digital EX 6.1

Languages: 
Cantonese 粵語, Mandarin 普通話 / 國語

Subtitles:
English, Traditional Chinese 繁體中文字幕, Simplified Chinese 簡體中文字幕

Running Time: 
95 minutes

Distributor: 
Kam & Ronson Enterprise Co., Ltd. (HK)

Release Date:
25 Nov 2016

Synopsis:
While he was tailing a Jockey Club trader in his investigation, Principal Investigator William Luk (Louis Koo) of the ICAC witnessed the murder of the trader by a lone assassin (Chou Yu Min).

Inspector Lau Po Keung (Julian Cheung) of the Crime Unit was assigned to the murder and got nowhere with Luk's testimony as Luk refused to disclose anything pertaining to his own investigation.

Another classic run-in between the Police and ICAC was in the making. When the Police investigation led to someone called Teacher (Lo Hoi Pang), the biggest player who controls the illegal bookmaking on football betting in Hong Kong, Terry Lun (Bowie Lam), the Security Manager of the Jockey Club was murdered. While Lau was in hot pursuit of the assassin, the assassin escaped with the help of Lau's sister, Ebby (Dada Chan). The hired hit was ordered by Big Boss, the mastermind behind an international crime syndicate who manipulated football matches in Europe. His partner was Ha Chi Yin (Shek Sau), one of the directors of the Jockey Club who was the shoo-in candidate as the next Chairman.

Two disciplined forces embarked on the case with mutual distrust ended up with rapport and understanding to uproot the crime syndicate…

馬會的球賽博彩操盤手被獨行殺手(周渝民)殺害!目擊證人竟是廉署首席調查主任陸志廉(古天樂),因為他正在協助另一調查主任漫玲(蔡少芬)調查操盤手!兇殺案是警方的調查範圍!重案組督察劉保強(張智霖)跟志廉錄口供。因為廉署的保密守則,志廉甚麼也沒說!保強只感被敷衍了,他很不滿!警廉之間,充滿矛盾!

根據線索,警方得知香港非法賭球集团幕後有一個大莊家叫華老師(盧海鵬),但同一時間馬會保安經理倫添源(林保怡)被殺,輾轉間保強找到了殺手,可惜在他的細妹愛碧(陳靜)協助下,殺手逃掉!殺手原來受聘於國際犯罪集團首腦Big Boss,他操控了歐洲的球賽賽果,跟香港的搭檔合作從中獲利,而他的搭檔,正是馬會的董事(石修),將會繼任馬會主席….

兩支紀律部隊由開始時的互不信任,到最後發展出默契,誓要將集團連根拔起……


movie trailer (English subtitle)

More items to consider...