Sammy 2 Blu-Ray (2012) 森美海底歷險2 (Region A) (Hong Kong Version) a.k.a. Sammy's Adventures 2
$18.99 USD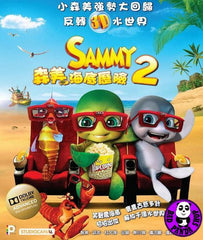 Region Coding: Region A (Locked)

Voice: 

Billy Unger
Dino Andrade
Isabelle Fuhrman
Pat Carroll

Cantonese Dubbed 粵語配音:
Chapman To 杜汶澤 (聲演)


Sammy Leung 森美 (聲演)


Lawrence Cheng 鄭丹瑞 (聲演)
Lo Hoi Pang 盧海鵬 (聲演)
Jin Gang 金剛 (聲演)
Michelle Lo 盧覓雪 (聲演)


Directors:
Ben Stassen
Vincent Kesteloot

Audio Tracks:
English Dolby TrueHD 5.1
Cantonese Dolby TrueHD 5.1

Subtitles:
English, Traditional Chinese 繁體中文字幕, Simplified Chinese 簡體中文字幕

Running Time:
93 minutes

Distributor:
Panorama (HK)

Release Date:
20 Dec 2012

Synopsis:
Sammy and Ray, leatherback turtles and friends forever, are enjoying an atoll's water and sand, shepherding new hatchlings Ricky and Ella out to sea. Suddenly, a poacher swoops in and ships them off to be part of a spectacular aquarium show for tourists in Dubai. The kingpin of the place, Big D the seahorse, enlists them in his plans for a great escape. But with their new friends Jimbo the bug-eyed blob fish and Lulu the snippy lobster, Annabel the sweet Octopus, and a whole family of penguins, Sammy and Ray hatch breakout plans of their own. That is when little Ricky and Ella arrive, determined to break in to rescue them. After a series of thrilling adventures and narrow escapes, our heroes head south to meet up with Shelly, Sammy's first and only love.

上回的主角「海龜」森美 (森美 聲演) 和老友阿威 (杜汶澤 聲演) 已「升呢」做爺爺,湊住兩個乖孫:「龜仔」歴奇同「龜女」恩娜出海。誰不知未出海就被­人類捉咗上船,並遇上有精神分裂的「龍蝦」勞蘇 (鄭丹瑞 聲演) 和扮死高手「怪魚」尖波 (盧海鵬 聲演),原來他們正要被送往全球最龐大最奢華的高科技人造水世界做展品,森美和阿威更­在途中同兩個乖孫失散!

被困在海底監倉的森美和阿威,認識到各種外型趣怪性格可愛的海洋朋友,有「爛gag小­丑魚」杜斯、「扁頭鯊魚」阿拔、「神經質魚」積斯、「痴纏魚」夫婦猛南同索侶 (盧覓雪 聲演),大家各出奇謀,誓要重拾自由。無奈揸fit「海馬」大Dee (金剛 聲演),硬要話事諸多阻撓,大家被迫跟從他唔多實際的逃亡大計。與此同時,歴奇和恩娜­在大海中四出尋找爺爺,結識了「八爪魚」母女瑪嘉烈同小安妮。森美和阿威忽然想出一條­絕世好橋,召集一班海洋朋友同歴奇、恩娜與「八爪魚」救兵裏應外合,實行反轉監倉大逃­亡。

More items to consider...