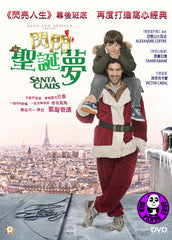 Region Coding: Region 3 (Locked)

Starring:
Tahar Rahim
Victor Cabal
Annellse Hesme
Michael Abiteboul
Philippe Rebbot

Director:
Alexandre Coffre

Audio Tracks: 
Dolby Digital EX

Picture Format:
PAL

Languages: 
French

Subtitles:
English, Traditional Chinese, Simplified Chinese

Running Time: 
- minutes (TBA)

Distributor: 
Panorama (HK)

Release Date:
26 June 2015

Synopsis:
On this Christmas Eve, six-year-old Antoine has only one idea in mind: to meet Father Christmas and go on a trip to the stars with him in his sleigh.

When Father Christmas does magically fall onto his balcony, Antoine is too dazzled to see that he is in fact a thief in disguise, who is stealing jewels from apartments in chic neighborhoods.

Despite all his efforts to get rid of the very determined boy, Father Christmas and Antoine form an improbable duo who traverse Paris from roof to roof, each of them looking for their own dream.


movie trailer (English & Chinese subtitles)

More items to consider...