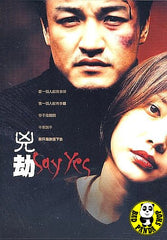 Region Coding: Region 3 (Locked)

Starring: 
Park Joong Hoon
Chu Sang Mi
Kim Joo Hyuk
Lee Seo Jin

Director: 
Kim Sung Hong

Audio Tracks: 
Dolby Digital

Languages: 
Korean

Subtitles: 
English, Traditional Chinese

Running Time: 
101 minutes

Distributor:
Edko Films Ltd. (HK)

Release Date:
30 Dec 2005

Synopsis:
A couple on a memorable trip. A strange man unexpectedly intrudes on them. And they depart on an unforgettable trip together. 
Yoon-hee and Jung-hyun depart on a road trip to the countryside to celebrate their first anniversary. While savoring their time together, they meet a stranger named M. To their surprise, M shows up every destination the couple arrives. He interrupts their time alone as he continues to harass them at the most unexpected moments. The couple later learns that M is a serial killer. They tried to flee but failed, and Jung-hyun is faced with a decision he may regret for the rest of his life....

More items to consider...