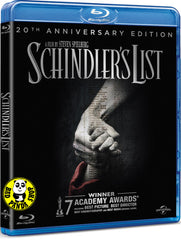 Region Coding: Region A (Locked)

Starring:
Liam Neeson
Ben Kingsley
Ralph Fiennes
Embeth Davidtz
Caroline Goodall
Jonathan Sagalle
Mark Ivanir

Director:
Steven Spielberg

Audio Tracks:
DTS-HD Master Audio, Dolby Digital 5.1

Languages:
English, Japanese, Portuguese, Spanish, Thai

Subtitles:
English, Traditional Chinese, Japanese, Korean, Spanish, Thai, Portuguese

Running Time:
195 minutes

Distributor:
Intercontinental Video Ltd. (IVL) HK

Release Date:
09 April 2013

Synopsis:
Schindler's List, a Steven Spielberg film, is a cinematic masterpiece that has become one of the most honoured film of all time.

Winner of seven Academy Awards, including Best Picture and Best Director, it also won every other major Best Picture award and an exceptional number of additional honours. Among them were seven British Academy Awards, the Best Picture Awards from the New York Film Critics Circle, the National Society of Film Critics, the National Board of Review, the Producers Guild, the Los Angeles Film Critics, the Chicago, Boston and Dallas Film Critics, a Christopher Award, and the Hollywood Foreign Press Association Golden Globe Awards. Steven Spielberg was further honoured with the Directors Guild of America Award.

The film presents the indelible true story of the enigmatic Oskar Schindler, a member of the Nazi party, womaniser and war profiteer who saved the lives of more than 1,100 Jews during the Holocaust. It is the triumph of one man who made a difference, and the drama of those who survived one of the darkest chapters in human history because of what he die.

Directed by Steven Spielberg, the film, which also won Academy Awards for Screenplay, Cinematography, Music, Editing and Art Direction, stars an acclaimed cast headed by Liam Neeson, Ben Kingsley, Ralph Fiennes, Caroline Goodall, Jonathan Sagalle and Embeth Davidtz.

More items to consider...