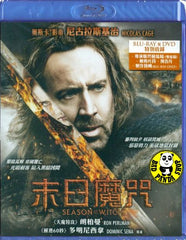 Region Coding: Region A (Locked)

Starring: 
Nicolas Cage
Ron Perlman

Director:
Dominic Sena

Audio Tracks:
Dolby DTS-HD Master Audio 7.1
Dolby TrueHD 7.1

Languages: 
English

Subtitles:


Traditional Chinese, Simplified Chinese (NO English Subtitles)

Running Time:
95 minutes

Distributor:
Vicol Entertainment

Release Date:
29 Jun 2011

Synopsis:
As the Black Plague rages across 14th century Europe, one brave knight, Lavey (Nicolas Cage), is tasked with transporting a girl suspected of being the witch who caused the pandemic. Believing she is wrongly accused, Lavey and a group of wary followers fight through a mystical and treacherous landscape to a hallowed place where her innocence can be proved and Europe's curse can be lifted. Unbeknownst to Lavey, even darker forces await them...
More items to consider...