Secret of the Wings 奇妙仙子冬森林的秘密 Blu-Ray (2012) (Region A) (Hong Kong Version) a.k.a. TinkerBell and the Secret of the Wings
$33.49 USD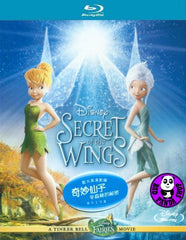 Region Coding: Region A (Locked)

Starring: 
Animation

Director:
Roberts Gannaway
Peggy Holmes

Audio Tracks:
DTS-HD Master Audio, Dolby Digital 5.1

Languages: 
English, Mandarin, Korean, Thai, Portuguese

Subtitles:


English, Traditional Chinese,

Korean, Thai
Running Time:
75 minutes

Distributor:
Disney / Inter-Continental Video Limited

Release Date:
27 Nov 2012

Synopsis:
Disney invites you on an incredible journey to an amazing new world, in a motion picture event that will take your breath away.
 
For the fairies of Pixie Hollow, the Winter Woods is strictly off limits. But when a mysterious force draws Tinker Bell to cross the border into this unknown world, she discovers a secret that will change her life forever. She comes face-to-face with a frost fairy named Periwinkle, the only fairy who can help unlock the secret of the wings.
 
With fun and laughter, they form a magical connection and make an astonishing discovery... they're more than friends, they're sisters! When Pixie Hollow is threatened, this perfect pair must work together to save their two worlds. Disney's Secret of the Wings will make you believe in the unbreakable bonds of friendship and sisterhood, and will change Pixie Hollow forever.

Special Features :
"Great  Divide" Music Video Performed By McClain Sisters
"Dig Down Deeper" Music Video Performed By Zendaya
Pixie Hollow Games - 22 Minutes Bonus Adventure
Pixie Preview : "Fright Light"
More items to consider...