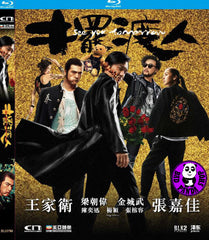 Region Coding: Region A (Locked)

Starring:
Tony Leung Chiu Wai 梁朝偉
Takeshi Kaneshiro 金城武
Eason Chan 陳奕迅
Angelabay Yang Ying
Sandrine Pinna 張榕容
Du Juan 杜鵑
Lynn Hung 熊黛林
Chris Lee 李宇春

Director:
Xantthe Chang 張嘉佳

Producer:
Wong Kar Wai 王家衛

Audio Tracks: 
Dolby TrueHD 7.1

Languages: 
Cantonese 粵語, Mandarin 普通話 / 國語

Subtitles:
English, Traditional Chinese 繁體中文字幕, Simplified Chinese 簡體中文字幕

Running Time: 
- minutes (TBA)

Distributor: 
CN Entertainment Ltd. (HK)

Release Date:
22 March 2017

Synopsis:
In this topsy turvey world, every city needs to have its "navigators"; especially skilled guides able to cure the world of a wide range of relationship troubles. Bar owner Chen Mo and his associate Guan Chun are legendary. Though their ways seem sloppy and uncoordinated, their results are first-rate. Supermen in the art of navigation, if you can book them, there is no river of pain they can't take you across. Girl-next-door Xiao Yu hires them to guide her idol, troubled singer Ma Li, but in the course of helping her find the path forward, Chen Mo and Guan Chun finally face their own problems in an epic act of self discovery that brings their lives from towering highs to withering lows.

每座城市都有屬於自己的傳奇,這座城市的傳奇就是「擺渡人」。據說,擺渡人能消除世間痛苦。酒吧老闆陳末 (梁朝偉-飾)和拍擋管春(金城武-飾),平時看起來吊兒郎當,但其實是「金牌擺渡人」,空手接白刃,人肉千斤頂,只要你「預約」,就無所不能。獨立又充滿正義感的小玉 (Angelababy-飾)為了鍾情已久的偶像馬力 (陳奕迅-飾),預約了「金牌擺渡人」的服務。但在擺渡小玉的過程中,陳末和管春也逐漸發現了自己躲不過的問題。從歡天喜地的生活,到驚天動地的瘋狂,擺渡人最輝煌的篇章,從這裡開啟。


movie trailer (English subtitle)

More items to consider...