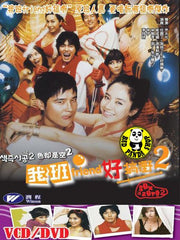 Region Coding:
Region Free

Starring: 
Lim Chang Jung
Song Ji Hyo
Yoo Chae Young
Choi Sung Kook
Shin Yi

Director: 
Yoon Je Kyun


Audio Tracks: 
Dolby Digital 5.1

Languages: 
Korean
Subtitles: 
English, Traditional Chinese, Simplified Chinese

Running Time: 
115 minutes

Distributor:
Winson Entertainment Distribution Ltd.(HK)

Release Date:
08 March 2011

Synopsis:
"Over age" student, Eun-sik and prom queen, swimming champ Kyung-ah are a notorious couple at the campus. While their relationship has been solid for three years, Eun-sik struggles to proceed to the 'Next step' with Kyung-ah, and despite the help and support of his friends, does not manage to get her into bed. Making things worse is Ki-ju, a current prosecuting attorney, who keeps interfering with the couple. Eun-sik fears that Kyung-ah will turn her back on him and is determined to get her back....
More items to consider...