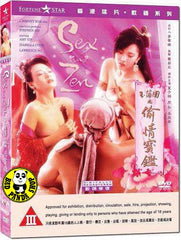 Region Coding: Region 3 (Locked)
Starring: 
Amy Yip
Kent Cheng
Lawrence Ng
Murakami Rena
Elvis Tsui
Zhow Wang
Lo Lieh
Ho Fan

Director: 

Michael Mak
Don Kit
Audio Tracks: 
DTS ES 6.1, Dolby Digital EX 6.1

Languages: 
Cantonese
Subtitles: 
English, Traditional Chinese

Running Time: 
99 minutes
Distributor:
Kam & Ronson Enterprise Co., Ltd.

Release Date:
24 Dec 2012

Synopsis:
A man marries a beautiful wife, but decides to go out and experience as many sexual conquests as possible, with unusual and often hilarious results. Meanwhile, his wife is forced to enter a brothel and work as a prostitute. After a series of adventures, the couple is reunited. An international hit featuring a funny plot and lots of eroticism.
More items to consider...