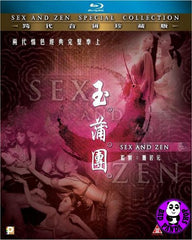 Region Coding:
Region Free - Sex & Zen: Extreme Ecstasy
Region A - Sex & Zen

Starring:  
Vonnie Lui
Lan Yan
Hara Saori
Suou Yukiko
Tony Ho
Hayama Hiro

Lawrence Ng
Amy Yip

Director:
Sun Li Ji, Michael Mak
Audio Tracks: 
DTS-HD Master Audio 5.1
Dolby TrueHD 5.1
Dolby Digital 5.1
Uncompressed PCM 5.1

Languages: 
Cantonese, Mandarin

Subtitles: 
English, Traditional Chinese, Simplified Chinese

Running Time: 
113 + 94 minutes

Distributor:
Panorama (HK) Distributions

Release Date:
15 Aug 2011

Synopsis:

Sex and Zen (1993): A cautionary tale about a man (Lawrence Ng) who marries a beautiful young woman (Amy Yip) but after a sexually unfulfilling wedding night, decides to set out on an odyssey to conquer as many women as possible. His pursuit for the ultimate erotic pleasure, leads him down the path of decadence, while his hapless bride is forced to work as a prostitute in a brothel. After a series of carnal adventures, with often unusual and hilarious results, the couple is reunited, but not before a sad lesson is inflicted.
Sex and Zen Extreme Ecstasy (2011):
As a conceited scholar of the Ming Dynasty, Wei Yangsheng believes one should pursue the ultimate sexual pleasure in life. Wei falls in love with the Taoist priest's daughter and get married. However, their sexual life is not satisfactory. One day, Wei becomes a guest of honour of Prince of Ning and is escorted to the Pavilion of Ultimate Bliss, where men and women live a life of wild orgies. The Prince of Ning has two stunners, coitus expert Reizhu and withdrawn sadist Dongmei. With Ning's permission, Wei Yangsheng enjoys promiscuous sex with them day and night. Yet his micro-penis soon makes him feel inferior. He later encounters The Elder of Ultimate Bliss, a greybeard with the appearance of a beautiful woman who keeps his youth-look by accumulating the Zen of yin yang. Under his guidance. Wei not only undergoes a dick-swap operation for a donkey's penis, but also acquires the ultimate sexual skills. Since then he arbitrarily pursues pleasure. His loving wife Yuxiang waits tranquilly at home for his return. Under the pressure of her father, heartbroken Yuxiang adamantly divorces Wei. Having been abandoned by Yuxian, Wei aggravates his licentious lifestyle. What seems to be adventitious is actually a deadly snare...
More items to consider...