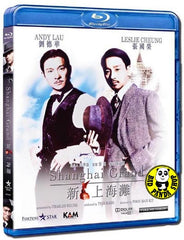 Region Coding:
Region A (Locked)


Starring: 
Andy Lau 劉德華
Leslie Cheung 張國榮
Ning Jing 寧靜
Amanda Lee 李蕙敏
Liu Shun 劉洵
Jung Woo Sung
Wu Xing Guo

Director: 

Poon Man Kit 潘文傑


Action Director: 
Tung Wai 董瑋

Producer: 
Tsui Hark 徐克

Audio Tracks: 
Dolby TrueHD 7.1, Dolby Digital 6.1

Languages: 
Cantonese, Mandarin
Subtitles: 
English, Traditional Chinese

Running Time: 
96 minutes
Distributor:
Kam & Ronson Enterprises Co., Ltd.

Release Date:
19 May 2011

Synopsis:
The Taiwan military officer, Hsu falls into the enemy's ambush, and floats to the Shanghai shore where he is saved by Ting Lik. Lik teams up with Kueng to try to make a fortune and soon they become famous in Shanghai. The Shanghai tycoon Fung try to eliminate other opponents with the help of Hsu and Lik. Later, Hsu discovers Fung is the mastermind of the ambush that killed all his fellow officials…
More items to consider...