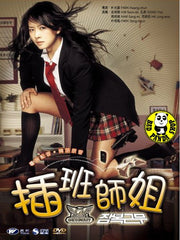 Region Coding:
Region Free

Starring: 
Kim Sun Ah
Nam Sang Mi
Gong Yoo
Park Sang Myun
Ha Jung Woo

Director: 

Park Kwang Chun

Audio Tracks: 
Dolby Digital 5.1, Dolby Digital

Languages: 
Korean, Cantonese

Subtitles: 
English, Traditional Chinese, Simplified Chinese

Running Time: 
114 minutes

Distributor:
Winson Entertainment Distribution Ltd.(HK)

Release Date:
20 June 2005

Synopsis:
Jae-in is a cop who used to subdue all the students in her teens. Once, a mission to catch a gangster falls upon her, so she poses as a high school girl to get closer to the gangster's daughter. But then she falls for a handsome high school guy, No-young and forgets about her own duty......
More items to consider...