Shivering Horror (2005) (Region 3 DVD) (English Subtitled) Japanese movie (Japanese Horror Anthology III)
$15.99 USD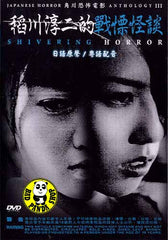 Region Coding:
Region 3 (Locked)


Starring: 
Matsumoto Marika
Hoshino Maya
Yazawa Shin
Mayuko Aso
Hidekazu Ichinose
Shusaku Fujiwara

Audio Tracks: 
Dolby Digital, Hi-Fi Stereo

Languages: 
Japanese, Cantonese

Subtitles: 
English, Traditional Chinese, Simplified Chinese

Running Time: 
59 minutes

Distributor:
Universe Laser (HK)

Release Date:
15 Nov 2005

Synopsis:
Part 1 -
Chain Mail
Director: Hiroshi Ikezoe
Friends of Sayaka get their kicks sending out hoax E-mail with the name of one of their classmate who killed herself due to bullying. Sayaka feels guilt for her failure to stop the hoax. But her friends die one after another under mysterious circumstances. That is when Sayaka receives Email with a picture of herself killed.
 
Part 2 - Left Behind In The Mountain
Director: Tatsuro Kashihara
Yoshimitsu is having little luck in his attempts to turn on the girls he met through Internet dating sites. This turns him into a man who finds pleasure in driving his date to a mountain top late at night and leaving her behind all alone there. But his fun lasts only until he tries his tricks on this girl.
 
Part 3 - Tattoo
Director: Kazuo Koito
Mina is living out a self-indulgent life. One day, she finds a butterfly-shaped leaflet for a tattoo shop. She dropped by on the shop and met a mysterious tattoo designer.
 
Part 4 - Viewfinder's Memory
Director: Eiji Satouchi
Childhood buddies of three visited a sea-side cottage. Yuta meets Mayaand falls in love on the spot. Kunio gets jealous as she also seems to be attracted to Yuta. That is when Atsushi, who is filming the couple on video, finds the girl on the screen is actually... 
More items to consider...