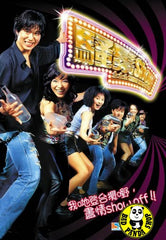 Region Coding:
Region Free

Starring: 
Park Sun Young
Yoo Joon Sang
Lee Seon Gyun
Ahn Jae Hwan

Director: 
Kim Jung Ho


Audio Tracks: 
Dolby Digital 5.1, Hi-Fi Stereo

Languages: 
Korean

Subtitles: 
English, Traditional Chinese, Simplified Chinese

Running Time: 
108 minutes

Distributor:
Sky Entertainment Distribution Ltd.(HK)

Release Date:
05 July 2007

Synopsis:
Three close buddies, San-hae, Sang-chul and Dong-ryong are optimistic and ambitious. They have a bet with their opponents, and fortunately they win a bar. Afterward, they realize that it is very run-down, but they do not want to give up. They decide to renovate it and create their own competitive edge so that a whole bunch of customers can be attracted. Then, they work very hard and invite Yoon-hui to teach them how to juggle bottles. A very entertaining and skillful performance jump-starts at once...
More items to consider...