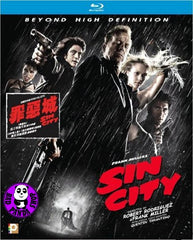 Region Coding: Region A (Locked)
Starring: 
Bruce Willis
Mickey Rourke
Jessica Alba
Clive Owen
Rosario Dawson
Elijah Wood
Nick Stahl
Benicio Del Toro
Josh Hartnett

Director:
Robert Rodriguez, Frank Miller

Audio Tracks:
English Dolby DTS-HD Master Audio 5.1
English Dolby Digital 5.1

Subtitles:


English, Traditional Chinese 繁體中文字幕

Running Time:
124 minutes

Distributor:
Panorama HK Distributions

Release Date:
15 May 2009

Synopsis:
Welcome to Sin City. This town beckons to the tough, the corrupt, the brokenhearted. Some call it dark. Hard-boiled. Then there are those who call it home. Crooked cops. Sexy dames. Desperate vigilantes. Some are seeking revenge. Others lust after redemption. And then there are those opting for a little of both. A universe of unlikely and reluctant heroes still trying to do the right thing in a city that refuses to care.
More items to consider...