Sinking Of Japan (2006) (Region 3 DVD) (English Subtitled) Japanese movie a.k.a. Nihon Chimbotsu
$15.99 USD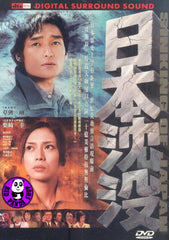 Region Coding: Region 3 (Locked)
Starring: 
Kusanagi Tsuyoshi
Shibasaki Kou
Oikawa Mitsuhiro
Toyokawa Etsushi
Daichi Mao

Director: 
Higuchi Shinji
Audio Tracks: 
Dolby Digital EX, THX Surround EX, DTS Extended Surround, DTS-ES

Languages: 
Japanese

Subtitles: 
English, Traditional Chinese

Running Time: 
134 minutes

Distributor:
Edko Films Ltd. (HK)

Release Date:
01 Feb 2007

Synopsis:
Japan has just received its death sentence. In less than a year, the island nation will sink! 
Earthquakes, tidal waves and volcanic eruptions roil the country, leaving millions dead and stranded. Japan's only hope lies with one plan... and one man! 
Experience on film an unprecedented natural disaster with all the realism and devastating force that is all too familiar to the people of Japan!
More items to consider...