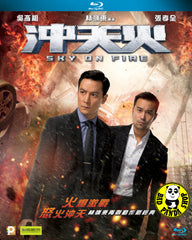 Region Coding: Region A (Locked)

Starring:
Daniel Wu 吳彥祖
Joseph Chang 張孝全
Amber Kuo Tsai Chieh 郭采潔
Zhang Jingchu 張靜初
Eddie Cheung 張兆輝
Philip Keung 姜皓文
Wayne Lai 黎耀祥
Jim Chim 詹瑞文

Director:
Ringo Lam 林嶺東

Audio Tracks: 
Dolby TrueHD Advanced 96k upsampling, Dolby Digital EX

Languages: 
Cantonese 粵語, Mandarin 國語

Subtitles:
English, Traditional Chinese 繁體中文字幕, Simplified Chinese 簡體中文字幕

Running Time: 
- minutes (TBA)

Distributor: 
Panorama (HK)

Release Date:
5 May 2017

Synopsis: 
Five years ago, a fire took the life of Professor Poon, and his research notebook disappeared without a trace. His assistant Ko Yuk (Zhang Jingchu) escaped death after being rescued by security guard Chong Tin-po (Daniel Wu).After losing his wife to cancer several years ago, Tin-po entered "Sky Number One," a top-level medical facility financed by the tycoons, as a security guard. He hopes that the lab will finally find a cure for cancer, but he realizes that Ko Yuk is the only researcher that is actually trying to develop "Super Stem Cells" to save lives. Meanwhile, her husband, "Sky Number One" president Tong Wing-cheung, is a ruthless businessman who puts money ahead of everything and will take any means necessary to get his way.The "Super Stem Cell" has finally been successfully developed. Chia-chia (Chang) has brought his cancer-afflicted sister Jen (Kuo) to Hong Kong in search for a cure, but they're suddenly caught in the middle of a daring robbery for the "Super Stem Cell". The man behind the robbery is Professor Poon's son, Poon Chi-man. To discover the truth behind his father's murder, Chi-man engages in an explosive battle against Tin-po and his security team.Tin-po fights to protect the stolen cancer cure, and Chia-chia needs to steal it to save his sister. When the two men realize that Chi-man and his team are the good guys after all, they face a moral dilemma: Should they betray Chi-man or help him defeat the tyrant that is Tong Wing-cheung? Prepare for an all-out war that will rock the city!

五年前一場大火,令研究治癌藥「超能幹細胞」的潘教授葬身火海,其研究筆記亦在大火中消失。當時助理研究員高玉 (張靜初 飾) 幸運地被保安員宗 天保 (吳彥祖 飾) 所救。 天保妻子死於癌症,他加入醫療中心「天空一號」任保安主任,希望中心終能研究治癌藥物,而鑽研「超能幹細胞」的就是高玉,其丈夫亦即「天空一 號」話事人唐永章卻是金錢至上的人。 「超能幹細胞」終於研發成功,從台灣來的家家 (張孝全 飾) 帶著癌症末期的妹妹 (郭采潔 飾) 小珍來港尋求醫治,怎料捲入一場「超能幹細胞」劫案,偷走藥物的居然是已故潘教授的獨子潘子文,更與天保及一眾保安人員展開 連場火爆爭奪戰。 一場癱瘓全城的風暴正式啟動!


movie trailer (English subtitled)
More items to consider...