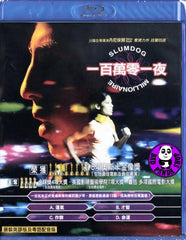 Region Coding: Region A (Locked)

Starring: 
Dev Patel
Anil Kapoor
Saurabh Shukla
Rajendranath Zutshi

Director:
Danny Boyle

Audio Tracks:
Uncompressed PCM 7.1
LPCM 5.1
Dolby Digital 6.1EX

Languages: 
English, Cantonese

Subtitles:


Traditional Chinese (NO English Subtitles)

Running Time:
120 minutes

Distributor:
Edko Films

Release Date:
19 Jun 2009

Synopsis:
Jamal Mailk, an 18 year-old orphan from the slums of Mumbai, is just one question away from winning a staggering 20 million rupees on India's "Who WantsTo Be A Millionaire?" Arrested on suspicion of cheating, he tells the police the incredible story of his life on the streets and of the girl he loved and lost, but what is a kid with no interest in money doing on the show? And how is it he knows all the answers?
More items to consider...