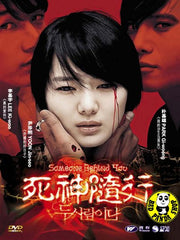 Region Coding:
Region Free

Starring: 
Yoon Jin Seo
Lee Ki Woo
Park Gi Woong

Director: 
Oh Ki Hwan


Audio Tracks: 
Dolby Digital 5.1

Languages: 
Korean

Subtitles: 
English, Traditional Chinese, Simplified Chinese

Running Time: 
82 minutes

Distributor:
Winson Entertainment Distribution Ltd.(HK)

Release Date:
18 Nov 2008

Synopsis:
Ga-in, a smart, pretty girl who is loved by everyone, witnesses the deaths
of people around her. She is then singled out as the next in line to die
from the curse that has one person in each generation die at the hands of
two people close to them. Ga-in searches for the truth about the curse with
Suk-min, a boy who always lingers around her, and her boyfriend Heon-joong,
but attacks on her life by those dearest to her, like her best friend and
her mother, never cease...
More items to consider...