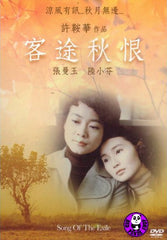 Region Coding: Region Free

Starring: 
Maggie Cheung 張曼玉
Luk Siu Fun 陸小芬
Waise Lee 李子雄

Tien Feng 田豐

Siu Seung
Yeung Ting Yan
Kaji Kentaro

Director: 
Ann Hui 許鞍華


Audio Tracks: 
Dolby Digital

Languages: 
Cantonese, Mandarin

Subtitles: 
English, Traditional Chinese

Running Time: 
96 minutes

Distributor:
Kam & Ronson Enterprises Co., Ltd.

Release Date:
16 April 2009

Synopsis:

Hiu-Yan (Maggie Cheung), who doesn't get on well with her mother since young, comes back home from abroad for attendling her younger sister's marriage.
After her sister's emigration, Yan has no choice but to accompany her mother (Luk Siu Fan) back to her hometown, Beppu, Japan. Being unaccommo-dated in a country with different language and living customs, Yan finally gets to know the loneliness and helplessness of her mother throughout the years with her husband's parents. It makes her to give a reappraisal to here mother.
More items to consider...