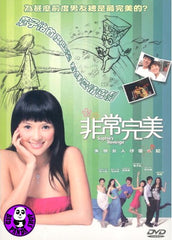 Region Coding: Region 3 (Locked)

Starring: 
Zhang Ziyi 章子怡
Fan Bing Bing 范冰冰
Peter Ho Jun Tung 何潤東
Ruby Lin Hsin Lu 林心如
Yao Chen 姚晨
Wang Ji 王姬

Director: 
Yi Mian


Audio Tracks: 
Dolby Digital

Languages: 
Mandarin

Subtitles: 
English, Traditional Chinese


Running Time: 
108 minutes

Distributor:
Edko Films Ltd. (HK)

Release Date:
28 Nov 2009

Synopsis:

Sophie is a talented cartoonist who seems to have it all, a successful career, great friends, and the perfect, handsome, fiance, Jeff, a surgeon who her mother adores. So when Jeff is stolen away by Anna, a beautiful actress, Sophie wants revenge. With the help of Gordon, a photographer, who apparently has been recently dumped by Anna, Sophie continues to implement her Big Plan Gordon reluctantly agrees to help Sophie with " Arousing Jealousy" ,where they both behave like lovers in front of Jeff and Anna. Finally it works: Jeff seems to be jealous. While a thrilled Sophie is conducting her final winning move, Gordon refuses to help and confesses that he has fallen in love with Sophie, who, sooner than expected, is confronted by a repentant Jeff who wants her back! Who should she choose for true love and happiness?
More items to consider...