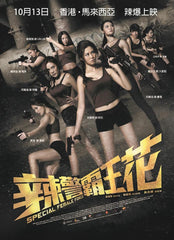 Region Coding: Region 3 (Locked)

Starring:
Eliza Sam 岑麗香
Joyce Cheng 鄭欣宜
Jeana Ho 何佩瑜
Anita Chui 崔碧珈
Mandy Ho 何佩珉
Cathryn Lee 李元玲
Jacky Cai 蔡潔
Royi Wang 王若伊
Aaron Aziz

Director:
Wilson Chin 錢國偉

Audio Tracks: 
Dolby Digital 5.1

Languages: 
Cantonese 粵語, Mandarin 普通話 / 國語

Subtitles:
English, Traditional Chinese 繁體中文字幕

Running Time: 
- minutes (TBA)

Distributor: 
CN Entertainment Ltd. (HK)

Release Date:
8 Dec 2016

Synopsis:
25 years ago, a group of female agents went undercover in a five-star hotel in Bangkok to investigate international terrorist, Gu Zhi Jin. An accidental explosion at the hotel killed many of the female agents except the leader, Madam Fong, as well as Gu. In present time, Madam Fong meets a group of girls and trains them as her apprentices. She is now on a mission to capture the terrorist she missed 25 years ago.

特種部隊「霸王花」奉命出征泰國,緝捕頭號通緝犯「總統」,結果因一位好勝而年青的隊員違抗上司命令,最終任務失敗,其他隊員壯烈犧牲,「霸王花」從此解散。 二十年後,警隊重組「霸王花」,挑選了一批女訓練員進入訓練營,接受嚴格特訓。過程中,阿花認識了慳妹、豪哥、Cat、阿瞳、Ling Ling,她們六人年紀相若,但性格各異,雖被編進同一組,卻各懷不同的原因來投考「霸王花」


movie trailer (English subtitle)

More items to consider...