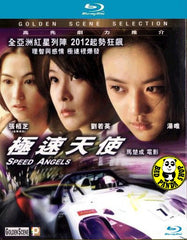 Region Coding: Region A (Locked)
Starring: 
Tang Wei 湯唯
Cecilia Cheung 張栢芝
Rene Liu 劉若英
Jimmy Lin 林志穎
Kitamura Kazuki
Han Jae Suk
Tanaka Chie
Cheng Pei Pei
Jiang Wu
He Jiong
He Jiong
Jingle Ma

Director: 

Jingle Ma


Audio Tracks: 
DTS-HD Master Audio, Dolby Digital 5.1

Languages: 
Cantonese, Mandarin

Subtitles: 
English, Traditional Chinese

Running Time: 
112 minutes
Distributor:
Panorama (HK)

Release Date:
20 April 2012

Synopsis:
Han Bing, the provocatively dressed female racer in the lead is freely navigating her car through the streets. Although she has superb techniques, her hands are mildly trembing from years of alcohol abuse, making her unable to have complete control over the steering wheel. A year ago in Tokyo, Han Bing was shocked to discover that her fiance Asano was cheating on her with her teammate and best friend Yu Mei. Bing chased them out to the hotel and jumped into her car to catch up with Asano and Yu Mei, but unexpectedly her sister got into an accident and her legs were seriously injured. To treat her sister's legs, Bing agrees to Gao Feng's proposal to compete in the inaugural "Asia All Female Racing Competition" in hope to win the prize money of Five million USD! Gao Fen recruits Xiao Yi and trains her to be a car racer in his racing team, Speed Angel. Despite becoming a race car driver, Xiao Yi cannot overcome her inability to handle pressure, unable to give her best performance when the stakes are high. Han Bing is far from being in top form and Gao Feng decides to invite yu Mei back to the team!
More items to consider...