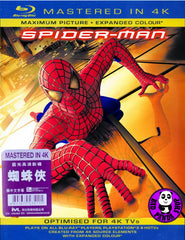 Region Coding: Region Free

Starring:
Tobey Maguire
Kirsten Dunst
Willen Dafoe
James Franco

Director:
Sam Raimi

Audio Tracks: 
- (TBA)

Languages: 
English

Subtitles:
English, Traditional Chinese

Running Time:
121 minutes

Distributor:
Sony Pictures / Intercontinental Video Ltd. (IVL) HK

Release Date:
06 Aug 2013

Synopsis:
Based on the legendary flagship character of Marvel Comics, this is the story of Peter Parker, a high school student living with his Runt May and Uncle Ben after the death of his parents when he was just a baby. He's an avid student with a much-less-than-stellar social life and a knack for bad luck. While attending a scientific demonstration, a freak accident bombards a stray spider with radiation, and that same spider finds its way onto the unsuspecting Peter's body and bites him, miraculously granting him incredible spider-like abilities; in effect, making him into the amazing Spider-Man. Peter will find that there's a thin line between an ordinary man and an extraordinary hero; and he'll have to be the one to cross it.
More items to consider...