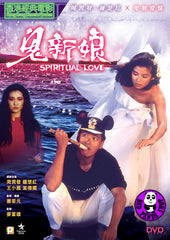 Region Coding: Region 3 (Locked)

Starring: 
Chow Yun Fat 周潤發
Cherie Chung 鍾楚紅
Deanie Ip 葉德嫻
Wong Siu Fung 王小鳳
Paul Chun 秦沛

Directors: 
David Lai Tai Wai  黎大煒
Taylor Wong 黃泰來

Audio Tracks: 
Dolby Digital 5.1

Languages: 
Cantonese 粵語, Mandarin 國語

Subtitles: 
English, Traditional Chinese 繁體中文字幕, Simplified Chinese 簡體中文字幕

Running Time: 
93 minutes

Distributor: 
Panorama (HK)

Release Date: 
19 June 2020

Synopsis: 
Lao K (Chow Yun Fat), a loser, lives with his cousin Sai Chin Hua (Deannie Yip) who studies Feng Shui and Mao Shan. One day, Lao K buys a desk from a second-hand shop and finds a suicide letter written by a girl Wei Hsiao Tieh (Cherie Chung) inside the desk. Lao K sympathizes with Tieh and replies her letter. After that, they start a human-ghost love affair.

Lao K has a greedy ex-girlfriend May (Pauline Wong) who wants to re-unite with him because her rich boyfriend just dumps her. However, Lao K is in love with Tieh and rejects May. May suicides for Lao K and becomes a ghost to retaliate to Lao K and Tieh...

阿搏(周潤發 飾)與研習風水、茅山術的表姐賽金花(葉德嫻 飾)相依為命。一日,阿搏從舊貨店買來一張書桌,發現內藏少女魏小蝶(鍾楚紅 飾)的絕命書。小蝶身世可憐,阿搏不禁寫下回信,二人展開一段淒美的人鬼戀。

阿搏的前女友May(王小鳳 飾)貪慕虛榮,當她被富貴男友拋棄後,欲回阿搏身邊,但阿搏心裡只有小蝶。May極為憤怒,不惜自殺,化為厲鬼找二人報仇……


movie trailer
More items to consider...