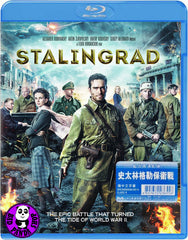 Region Coding: Region A (Locked)

Starring:
Thomas Kretschmann
Yanina Studilina
Phillippe Reinhardt
Heiner Lauterback
Pyotr Fydorov

Director:
Fyodor Bondarchuk
Fedor Bondarchuk

Audio Tracks: 
DTS-MD Master Audio 5.1, Dolby Digital 5.1

Languages: 
English, Russian, Spanish, Thai

Subtitles:
English, Traditional Chinese, Simplified Chinese, Korean, Spanish, Indonesian, Thai

Running Time: 
- minutes (TBA)

Distributor:
Sony Pictures / Intercontinental Video Ltd. (IVL) HK

Release Date:
27 May 2014

Synopsis:
STALINGRAD is an epic look at the battle that turned the tide of World War II. A band of determined Russian soldiers fight to hold a strategic building in their devastated city against a ruthless German army, and in the process become deeply connected to two Russian women who have been living there. Presented in IMAX 3D, the scale of the battle contrasts dramatically with the human drama of the Russian soldiers, the few remaining civilians and their invaders into Stalingrad.
More items to consider...