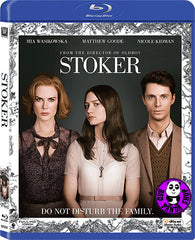 Region Coding: Region A (Locked)

Starring:
Mia Wasikowska
Matthew Goode
Nicole Kidman
Dermot Mulroney
Lucas Till
Alden Ehrenreich

Director:
Park Chan Wook

Audio Tracks: 
Dolby Digital 5.1

Languages: 
English, French, Portuguese, Spanish, Thai

Subtitles:
English, Traditional Chinese, Spanish, Thai, Vietnamese, Portuguese

Running Time: 
- minutes (TBA)

Distributor:
20th Century Fox / Intercontinental Video Limited

Release Date:
5 July 2013

Synopsis:
ACADEMY AWARD Winner Nicole Kidman*, Mia Wasikowska and Matthew Goode star in this "darkly wicked, beautifully executed mystery" (Los Angeles Times) by critically acclaimed filmmaker Park Chan-wook (Oldboy). Following the tragic death of her father on her eighteenth birthday,

India Stoker (Wasikowska) meets Charlie (Goode), her charismatic uncle, whom she never knew existed. When Charlie moves in with India and her unstable mother (Kidman), both are drawn to his charming and calming demeanor. But it soon becomes clear that Charlie's arrival was no coincidence, and that the shocking secrets of his past could affect India's future...or shatter it completely.


movie trailer
More items to consider...