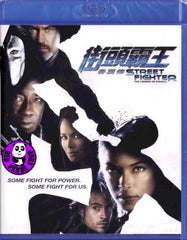 Region Coding: Region A (Locked)

Starring: 
Kristin Kreuk
Chris Klein
Moon Bloodgood
Josie Ho
Robin Shou

Director:
Andrzej Bartkowiak

Audio Tracks:
Dolby DTS-HD Master Audio 5.1
Dolby TrueHD 5.1

Languages: 
English

Subtitles:


English, Traditional Chinese, Simplified Chinese

Running Time:
98 minutes

Distributor:
Vicol Entertainment

Release Date:
30 Jun 2011

Synopsis:
As a child, Chun-Li (Kristin Kreuk) witnesses the kidnapping of her father Xiang by a wealthy crime lord M. Bison. Xiang is shown working as a prisoner under Bison's evil control. When Chun-Li grows up, she goes into a quest for vengeance and becomes a notable crime-fighter. Chun-Li confronts challenges with heavily built and very muscular man Balrog. Vega wears a mask with a sharp metal claw. And Bison's secretary Cantana (Josie Ho), a sexy charming lesbian… Now, street fighters are fighting brutally for the ultimate battle...
More items to consider...