Streetdance 3D [2D only version] (2010) (Region A Blu-Ray) (Hong Kong Version) a.k.a. Street Dance
$16.99 USD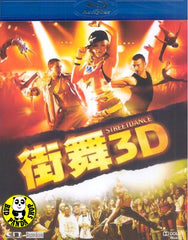 Region Coding: Region A (Locked)

Starring: 
Charlotte Rampling
Eleanor Bron
Frank Harper
Nichola Burley

Director:
Max Giwa
Dania Pasquini

Audio Tracks:
Dolby TrueHD 7.1
Dolby Digital 5.1

Languages: 
English

Subtitles:


English, Traditional Chinese

Running Time: 
99 minutes

Distributor:
CN Entertainment

Release Date:
11 Feb 2011

Synopsis:

Carly and her boyfriend's crew has just made it through to the finals of the UK Street Dance Championships. But everything changes when Jay Walks out on Carly and the crew, breaking her heart and leaving the street dancers' dreams in jeopardy. Carly struggles to lead the team to victory but was challenged by a series of setbacks including losing their rehearsal space. Salvation comes in from ballet schoolmistress Helena. She allows Carly practise in the Ballet Academy's luxurious dance studio in return for collaborating with her ballet dancers. A clash of cultures ensues as the two very different dance styles face off against each other... Street Dance also features the 14-year-old Britain's Got Talent winner and the very strong dance group dance group Flawless and Diversity.
More items to consider...