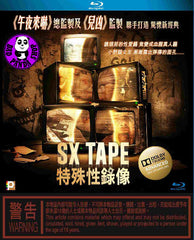 Region Coding: Region A (Locked)

Starring:
Caitlyn Folley
Ian Duncan
Daniel Faraldo
Diana Garcia
Eric Neil Gutierrez
Julie Marcus

Director:
Bernard Rose

Audio Tracks: 
Dolby TrueHD Advanced 96k upsampling, Dolby Digital EX

Languages: 
English

Subtitles:
English, Traditional Chinese, Simplified Chinese

Running Time: 
- minutes (TBA)

Distributor:
Panorama (HK)

Release Date:
14 Nov 2014

Synopsis:
What begins as harmless sex games between a free-spirited artist (Caitlyn Folley) and her videographer boyfriend (Ian Duncan) turns much darker as the pair breaks into a boarded-up former hospital , looking for a space for a new gallery show. As they investigate the building's ominous rooms and passageways, a seductive prank , meaning to arouse and terrify, goes terribly wrong - and what is discovered will destroy them both.
More items to consider...