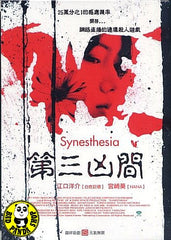 Region Coding: Region 3 (Locked)
Starring: 
Eguchi Yoshuke
Miyazaki Aoi
Masanobu Ando

Director: 
Matsuura Toru
Audio Tracks: 
Dolby Digital 5.1

Languages: 
Japanese
Subtitles: 
English, Traditional Chinese

Running Time: 
122 minutes

Distributor:
Universe Laser (HK)

Release Date:
26 May 2006

Synopsis:
The world was no more than a place for "Isolation". Until I met you...
Shinsuke (Yosuke Eguchi) suffesrs from the sensation of "Synesthesia". He submerges the symptom deep within himself and manages to go on with his daily life as a conductor of a hidden-camers voyeur internet site for a Yakuza (Minoru Torihada). He holds a dark sadness in his heart, knowing that evev his close friend Takashi (Masanobu Ando) and beloved fiancee, Fuyuko (Hijiri Kojima), cannot comprehend his situation.
Mari (Aoi Miyazaki) also leads a life of sad isolation, because of synesthesia as well, keenly aware that no one will be able to understand her thoughts. Her parents are deceased, and her successive foster parents somehow suspiciously die, one after another. An incident brings Shinsuke, Takashi and Mari together. Mari is involved by a serial murder case, and it seems as the next victim may be herself. Takashi is immediately sttracted to Mari, and wants to save her out of all the trouble. However, it is when Shinsuke and Mari meet, that as if the last pieces of a puzzle, one the until this moment has lain deep within their hearts, falls into place. They finally seem to have found a place that they belong. Meanwhile, 'Picasso' (Ryehei Mastuda), presumed to be the mythical "Dealer in Death" on an underground website, seems to be the suspect of the ongoing serial murder and a succession of strange incidents that occur around Mari.
Police Inspector Aki Shibata (Yuriko Ishida) and Detective Tsuge (Toshiyuki Kitami) is in pursuit until they get an idea that the marking at each of the murder sites, may contain a message, which is to be sent form one synesthetes to another with the same symptom. They destined meeting of Ahinsuke and Mari opens the door of their destiny. Will thay find peace, or will they find tragedy, at the end of the road?
More items to consider...