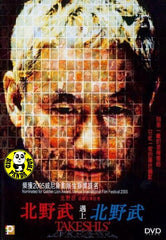 Region Coding:
Region 3 (Locked)

Starring: 
Beat Takeshi
Kitano Takeshi
Kyono Kotomi
Osugi Ren

Director: 
Kitano Takeshi
Audio Tracks: 
Dolby Digital Surround 5.1

Languages: 
Japanese
Subtitles: 
English, Traditional Chinese

Running Time: 
107 minutes

Distributor:
Panorama (HK)

Release Date:
14 Dec 2006

Synopsis:
Beat Takeshi lives the busy and sometimes surreal life of a showbiz celebrity. One day he meets his blond lookalike named Kitano, a shy convenience store cashier, who, still an unknown actor, is waiting for his big break. After their paths cross, Kitano seems to begin hallucinating about becoming Beat.
More items to consider...