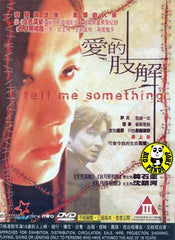 Region Coding: Region 3 (Locked)
Starring: 
Hon Suk gyu
Shim Eun ha

Director: 

Chang Yoon-hyun

Audio Tracks: 
Dolby Digital 5.1

Languages: 
Korean, Cantonese

Subtitles: 
English, Traditional Chinese

Running Time: 
118 minutes

Distributor:
Edko Films Ltd. (HK)

Release Date:
2 Dec 2000

Synopsis:
In the summer of 1999, a series of black garbage bags sealed with dismembered body parts begin to show up around Seoul: in an elevator, on a highway, at the edge of a basketball court. Detective Cho, assigned to the case, struggles to identity the victims. When at last the killer starts to drop hints, Cho makes a startling discovery: all the victims are ex-lovers of a woman named Su-yeon, a curator at the National Museum. In the course of his inquiry, Cho befriends Su-yeon, and begins to learn about her troubled past. Tell Me Something...the conversation with her begins.
More items to consider...