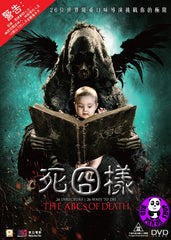 Region Coding: Region A (Locked)

Starring:
Eva Llorach
Miquel Insua
Alejandra Urdiain
Harold Torres
Greta Martinez
Pablo Guisa Koestinger
Matias Oviedo

Directors:
Kaare Andrews
Angela Bettis
Ernesto Diaz
Espinoza
Jason Eisener
Bruno Forzani
(totally 26 directors)

Audio Tracks: 
Dolby TrueHD Advanced 96k Upsampling, Dolby Digital EX

Languages: 
Original Soundtrack (English, Spanish, French, Japanese, German, Thai)

Subtitles:
English, Traditional Chinese, Simplified Chinese

Running Time: 
- minutes (TBA)

Distributor:
Panorama (HK)

Release Date:
16 Jan 2015

Synopsis:
Twenty-six directors. Twenty-six ways to die. Co-produced by Drafthouse Films, and finally ready to be unleashed-see what happens when you give more than two dozen of the most brilliant filmmakers from around the world free reign to indulge their creative impulses and black humor. From A to Z, it's got something for every genre fan and is like nothing you've ever seen before.
More items to consider...