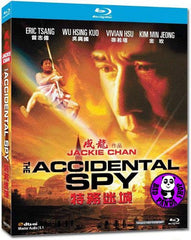 Region Coding: Region A (Locked)

Starring: 
Jackie Chan
Vivian Hsu
Eric Tsang
Wu Xing Guo
Jing Mei
Peter Kam
Starring: 
Teddy Chen

Audio Tracks: 
DTS-HD Master Audio, Dolby Digital 5.1, Dolby Digital

Languages: 
Cantonese

Subtitles: 
English, Traditional Chinese, Simplified Chinese, Japanese, Korean

Running Time: 
108 minutes

Distributor:
Kam & Ronson Enterprises Co., Ltd.

Release Date:
04 May 2009

Synopsis:
This actioner unfolds with the story of Buck, a salesman at a workout equipment store who harbors dreams of adventures.It all starts on one normal dull day, Buck follows his instincts to trail two suspicious looking men into an alley. When he realizes that these men are robbing a jewelry store, he jumps into action to foil their plans. Soon after Buck meets Liu, a private investigator who convinces Buck that he may be the long-lost son of a rich korean businessman. In no time, Buck is on his way to fulfill his dream of adventure and fortune travelling to Korea, and even exotic Turkey. As Buck is drawn deeper into the game of cat and mouse, he realizes he has become the key to locating a cancer virus. With an assortment of characters fighting him along the way, will Buck succeed in finding the virus himself?
More items to consider...