The After-Dinner Mysteries (2013) (Region 3 DVD) (English Subtitled) Japanese movie a.k.a. Nazotoki wa Dinner no Ato de
$15.99 USD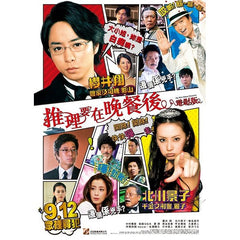 Region Coding: Region 3 (Locked)

Starring:
Sho Sakurai
Keiko Kitagawa
Kippei Shiina
Masatoshi Nakamura
Nanami Sakuraba

Director:
Masato Hijikata

Audio Tracks: 
Dolby Digital 5.1

Language: 
Japanese

Subtitles:
English, Traditional Chinese, Simplified Chinese

Running Time: 
121 minutes

Distributor:
Vicol (HK)

Release Date:
20 March 2014

Synopsis:
Based on the novel "Nazotoki wa Dinner no Ato de" by Tokuya Higashigawa.

Set on the "Princess Reiko," the largest luxury liner in Asia, sharp-tongued butler Kageyama and Detective Reiko are challenged to solve a puzzle against 300 other passengers and crewmen.


More items to consider...