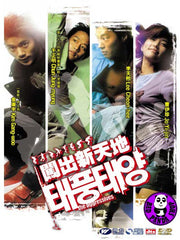 Region Coding:
Region Free

Starring: 
Kim Kang Woo
Chun Jung Myung
Lee Cheon Hee
Jo Yi Jin

Director: 
Jeong Jae Eun

Audio Tracks: 
Dolby Digital 5.1, DTS 5.1

Languages: 
Korean

Subtitles: 
English, Traditional Chinese, Simplified Chinese

Running Time: 
107 minutes

Distributor:
Winson Entertainment Distribution Ltd. (HK)

Release Date:
30 April 2008

Synopsis:
Soyo is gentle and introverted, but one day when he bumps into Moggy and his girlfriend Han ju who go in-line skating at the park, he is stunned by their extraordinary skill and technique. Soyo starts to love in-line skating immensely. From then on, they become friends with each other, and they go in-line skating together in flocks. They enjoy pursuing the same goal of perfection for their dream world. Moggy is indomitable and extremely confident; nevertheless, on one occasion, an advertisement production company files a lawsuit against him because of his rashness and impetuosity. In the end, Soyo and Moggy decide to take part in a world in-line skating contest, and they practise day and night in order to come up with different moves. The reason for doing this is so simple that they would like to win in the contest.
More items to consider...