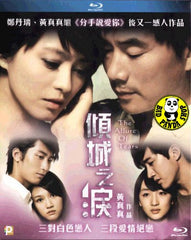 Region Coding: Region Free

Starring: 
Gigi Leung
Richie Jen
Aarif Lee
Joe Chen
Zhou Dong Yu
Shawn Dou
Teddy Robin
Lawrence Cheng
Pan Hung
Chen Guo Xing
Morris Rong

Director: 
Barbara Wong

Audio Tracks: 
DTS-HD Master Audio, Dolby Digital 5.1

Languages: 
Cantonese, Mandarin

Subtitles: 
English, Traditional Chinese

Running Time: 
124 minutes

Distributor:
Panorama (HK)

Release Date:
18 May 2012

Synopsis:
The romance film by Bartara Wong tells three touching love stories which are named the "three teardrops", Each story portrayed by different actors explores the hidden emotions, confusion and desire of today's young people. First Teardrop: a beautiful and cheerful girl suffering from bore cancer (Zhou Dong Yu) gives hope to another patient who used to be a cynical and pessimistic second generation rich (Aarif Lee). He is getting well due to her encouragement yet their love is destined to be tragic… Second Teardrop: In order to save the music academy from bankruptcy, ex-student Din (Richie Ren) tries to convince the internationally renowned violinist Yang Lin (Gigi Leung) to perform for a fund-raising concert Din, who used to has a strong sentiment towards Yang, now finally understand the reason behind her sudden withdrawal from the music scene. Third Teardrop: working class couple Sheng (Shawn Dou) and Cai (Joe Chen) are forced to separate in order to pursuit a better future through hard work. After three years, Sheng returns with fortune to marry Cai. However, their happiness vanishes miserably when it is just within reach.

More items to consider...