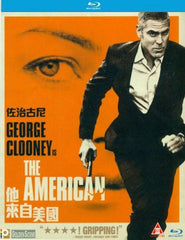 Region Coding: Region A (Locked)

Starring: 
George Clooney
Paolo Bonacelli
Violante Placido


Thekla Reuten


Irina Björklund
Johan Leysen

Director:
Anton Corbijn

Audio Tracks:
English Dolby DTS-HD Master Audio 5.1
English Dolby Digital 5.1

Subtitles:


English, Traditional Chinese

Running Time:
105 minutes

Distributor:
Panorama HK Distributions

Release Date:
25 Feb 2011

Synopsis:
The screenplay of suspense thriller The American is adapted from Martin Booth's 1990 novel A Very Private Gentleman. As an assassin, Jack (George Clooney) is constantly on the move and always alone. After a job in Sweden ends more harshly than expected for this American abroad, Jack retreats to the Italian countryside. In the mountains of Abruzzo, Jack accepts the friendship of local priest Father Benedetto (Paolo Bonacelli) and pursues a torrid liaison with a beautiful woman, Clara (Violante Placido). Jack and Clara's time together evolves into a romance, one seemingly free of danger. But by stepping out of the shadows, Jack may be tempting fate.
More items to consider...