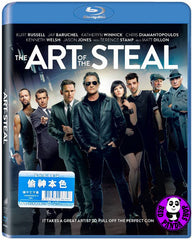 Region Coding: Region Free

Starring:
Kurt Russell
Matt Dillon
Terence Stamp
Jay Baruchel
Katheryn Winnick
Chris Diamantopoulos

Director:
Jonathan Sobol

Audio Tracks: 
DTS-HD Master Audio 5.1, Dolby Digital 5.1

Language: 
English, Italian, Spanish, Thai

Subtitles:
English, Traditional Chinese, Korean, Indonesian, Italian, Spanish, Thai

Running Time: 
90 minutes

Distributor:
Sony Pictures / Intercontinental Video Ltd. (IVL)

Release Date:
15 July 2014

Synopsis:
Crunch Calhoun (Kurt Russell), a third rate motorcycle daredevil and semi-reformed art thief, agrees to get back into the con game and pull off one final lucrative art theft with his untrustworthy brother, Nicky (Matt Dillon). Reassembling the old team, Crunch comes up with a plan to steal a priceless historical book, but the successful heist leads to another far riskier plan devised by Nicky. They fail to realize each other's separate agendas when their plan goes awry in this con comedy about honor, revenge and the bonds of brotherhood.
More items to consider...