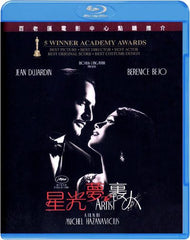 Region Coding: Region A (Locked)

Starring: 
John Goodman
Jean Dujardin
Berenice Bejo
James Cromwell
Malcol Mcdowell
Nina Siemaszko
Basil Hoffman
Missi Pyle
Lauter Ed
Penelope Ann Miller
Murray Joel
Beth Grant
Ken Davitian

Director:
Michel Hazanavicius

Audio Tracks:
DTS-HD Master Audio, Dolby Digital 5.1

Languages:
English

Subtitles:
English, Traditional Chinese

Running Time:
101 minutes

Distributor:
ERA Home Entertainment (HK)

Release Date:
15 June 2012

Synopsis:
A black-and-white French silent film "The Artist" which set in 1920's Hollywood. The story follows a vain, silent movie star George valentin (Dujardin) whose career decl8ines just as young actress Peppy Miller (Bejo) takes the country by storm in talkies. Hollywood 1927. George Valentin (Jean Dujardin) is a silent movie superstar. The advent of the talkies will sound the death knell for his career and see him fall into oblivion. For young extra Peppy Miller (Berenice Bejo), it seems the sky's the limit – major movie stardom awaits. THE ARTIST tells the story of their inter linked destinies.
More items to consider...