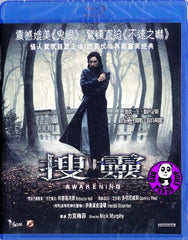 Region Coding: Region A (Locked)

Starring: 
Rebecca Hall
Dominic West
Imelda Staunton

Director:
Nick Murphy

Audio Tracks:
Dolby DTS-HD Master Audio 7.1
Dolby TrueHD 7.1

Languages: 
English

Subtitles:


English, Traditional Chinese, Simplified Chinese

Running Time:
107 minutes

Distributor:
Vicol Entertainment

Release Date:
4 Apr 2012

Synopsis:
In 1921, a post-war England where many of the bereaved seek solace in spiritualism. Haunted by the death of her fiance, Florence Cathcart is committed to debunking supernatural claims, using methodical and rational explanations. When she is asked to visit a boarding school in the countryside called Rookwood to investigate the alleged sightings of a ghostly young boy, only to find her own beliefs challenged. Florence has a chilling spectral encounter which defies all of her rational beliefs and sets her on a journey toward a heartbreaking climax.
More items to consider...