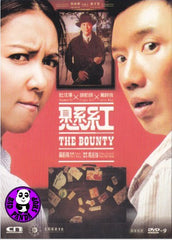 Region Coding: Region Free
Starring: 
Chapman To
Fiona Sit
Alex Man
Raymond Wong
Michael Hui
Charmaine Fong
Wong Yik Lam
Stephanie Cheng
Wang Lan
Law Wing Cheong
Ma Sai
Wen Chao
Mou Hao Chang

Director: 
Fung Chih Chiang
Producer: 
Paco Wong

Audio Tracks: 
Dolby Digital 5.1

Languages: 
Cantonese, Mandarin
Subtitles: 
English, Traditional Chinese, Simplified Chinese

Running Time: 
104 minutes
Distributor:
CN Entertainment Ltd.

Release Date:
10 Aug 2012

Synopsis:
In Hong Kong, beauty will be rewarded to anyone who reports a criminal thus leads to successful arrest and charging.

As a bounty hunter Chou (Chapman To) was an optimistic person however neurotic. Arrived at the small hotel "Lazy Inn". He planned to catch a wanted fugitive with a $400,000 bounty offered . At Lazy Inn Chau came across with the quaint owner (Alex Man) and his daughter Chaing (Fiona Sit) who was too curious to keep quiet. When the trio is trapped in silly miscommunications. Chaing discovered the fugitive Chou was about to catch was actually her friend!
More items to consider...